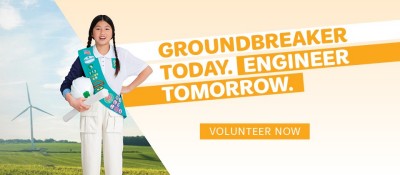 As a Girl Scout, she'll discover who she is, what she's passionate about, and what she wants to achieve—both today and in the future—in a place designed just for her. Join today!
Continue >

Cadettes-Ambassadors: Be a part of our first STEM Career Day! Meet experts and mentors in various STEM fields and discover exciting career paths on Saturday, Oct. 12, 9 a.m.-1:10 p.m.
Continue >

S.H.A.R.E. (Share Her Annual Real Expense) is the campaign to grow more G.I.R.L.s right here in San Diego and Imperial counties. Donate through S.H.A.R.E. and you help engage girls who would not otherwise be able to experience Girl Scouting. Be sure to indicate your service unit to help them meet their goal.
Continue >

With the new Girl Scout year just around the corner, you can help build more girls of courage, confidence, and character when you open your troop to more members in your community. Our research has shown that troops with 12 or more girls stay together longer than smaller troops, so why not welcome more girls?
Continue >

At G.I.R.L.palooza, Tierrasanta's "Back to Troop" event, leaders, troops, and friends gathered to see what Girl Scouting is all about! Older girls led Daisies-Juniors through Girl Scout traditions while leaders networked with the service unit team. What a way to kick off the new Girl Scout year!
Continue >


 SOCIAL MEDIA FEED