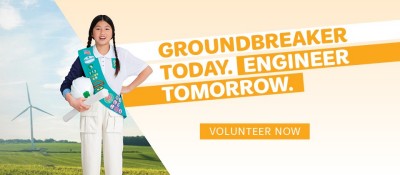 As a Girl Scout, she'll discover who she is, what she's passionate about, and what she wants to achieve—both today and in the future—in a place designed just for her. Join today!
Continue >

Help us fill the pages of our cookie reward coloring book! Girls, get creative and submit an artistic drawing of a butterfly to be considered for inclusion in our customized girl-inspired coloring book.
Continue >

With the new Girl Scout year just around the corner, you can help build more girls of courage, confidence, and character when you open your troop to more members in your community. Our research has shown that troops with 12 or more girls stay together longer than smaller troops, so why not welcome more girls?
Continue >

Lakeside Service Unit kicked off the new Girl Scout year with a s'mores-themed back-to-troop event at Lindo Lake park. Friends and Girl Scouts of all ages were invited to experience classic Girl Scout songs, decorate bandanas to hold back their hair as they roasted s'mores, and of course, participate in a friendship circle! Happy Girl Scout New Year!
Continue >


 SOCIAL MEDIA FEED