Girl Scout Cookies will be available through Sunday, April 18! Plus, Grubhub is treating San Diegans to a free box of Girl Scout Cookies when they place any size order for cookies (one free package of cookies per day per customer). Customers can also have cookies shipped, delivered to their doorstep, or donated.
Continue >

Walk, run, bike, or scooter to the Incredible Race! Girls and their families will follow clues to locations throughout Balboa Park and complete video-guided STEM activities.
Continue >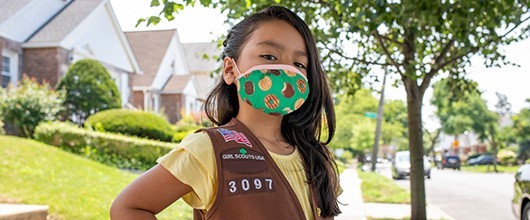 When you can't meet in person, gathering virtually through Zoom keeps your Girl Scout sisterhood strong! Discounted Zoom licenses for volunteers are now available. Read our COVID-19 guidance on our Staying Connected page regarding volunteer-hosted virtual and in-person activities.
Continue >

Girl Scouts have always stepped up in times of need, and our current COVID-19 crisis is no different. All across our country and our world, Girl Scouts have leapt to the aid of others by engaging in wonderful acts of service and kindness. Now your troop can get involved too!
Continue >

As we began our cookie program in a purely virtual environment, the Oak Creek Service Unit hosted a virtual Cookie Kickoff event. Girls practiced goal setting, decision making, money management, people skills, and business ethics while connecting with their Girl Scout sisters virtually.
Continue >
---
**Listings are up to date to the best of our knowledge. We are working with our community partners to determine which events will be held virtually or rescheduled. If you registered for a community partner event, reach out to them for guidance.**


 SOCIAL MEDIA FEED