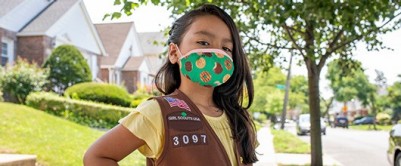 When you can't meet in person, gathering virtually through Zoom keeps your Girl Scout sisterhood strong! Discounted Zoom licenses for volunteers are now available. Read our COVID-19 guidance on our Staying Connected page regarding volunteer-hosted virtual and in-person activities.
Continue >

Girl Scouts have always stepped up in times of need, and our current COVID-19 crisis is no different. All across our country and our world, Girl Scouts have leapt to the aid of others by engaging in wonderful acts of service and kindness. Now your troop can get involved too!
Continue >

The 2021 Girl Scout Cookie Program officially begins on Sunday, Jan. 24! Our all-council virtual cookie rally is Friday, Dec. 4, and troop initial orders are due by Monday, Dec. 14. Volunteers: Get started by visiting our Quick Start guide and For Cookie Volunteers page. Girls and families: Visit our For Cookie Entrepreneurs page for dates, resources, and to submit the online participation agreement today!
Continue >

Girl Scouts San Diego offers an array of programs throughout the year that help girls build skills in all four of our program pillar areas: life skills, entrepreneurship, outdoors, and STEM. Check out upcoming events.
Continue >

The Camp Pendleton Service Unit really got into the holiday spirit this year. They hosted a holiday drive-thru event where girls and their families could safely pick up goodie bags filled with craft supplies, fun patches, ingredients for making dessert, and more. We hope all Girl Scouts and their families had a joyous and safe holiday season.
Continue >
---
**Listings are up to date to the best of our knowledge. We are working with our community partners to determine which events will be held virtually or rescheduled. If you registered for a community partner event, reach out to them for guidance.**


 SOCIAL MEDIA FEED