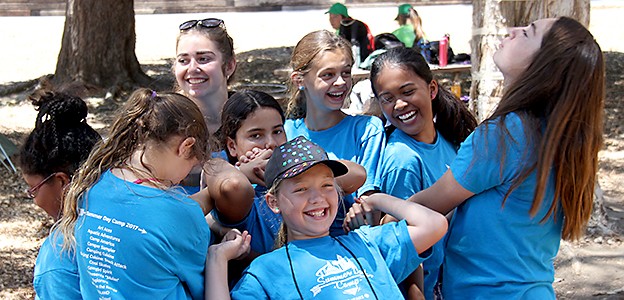 Day Camps
With a camp for every interest and age level, there's never been a more exciting time to attend Girl Scout day camp! Develop new skills and ideas, face challenges and celebrate your successes with new friends.

Camps are held at Girl Scouts' Balboa Campus, Escondido Program Center and other county locations, including museums, parks, recreation centers and amusement parks.
Girls in grades K-12 attend camps with themes and activities customized for their ages and interests. Campers will work on, and may complete, Girl Scout recognitions.
Girls are decision-makers, with leadership opportunities in every day camp program.
Sessions run Monday through Friday, for approximately six hours each day, with occasional overnight adventures.
Girls can sign up as individual campers or attend with a buddy.
Extended care is available mornings and afternoons at our Balboa Campus.
Adults: Volunteer for day camp!
Volunteers are essential to the day camp experience. Join us! Have as much fun as the campers, while developing your leadership skills, mentoring other girls, experiencing the outdoors and making new friends. There is no cost to volunteer, and your child will receive a significant discount on camp fees. Apply early for best placement options.
To volunteer: Register your child under the COV (child of volunteer) category to receive a discount; a COV rate is listed for camps that use volunteers. Then complete the Day Camp Volunteer Application and Volunteer Background Check.   If you are not selected to volunteer, your girl may attend camp at the regular rate.
To receive the COV rate for your camper, you must agree to work the full week of camp.
COV/Boy or Preschool indicates a camp that can accommodate male or preschool siblings of campers, to allow their parents to volunteer at camp. The boys and preschoolers enjoy activities in their own groups, with their own leaders. Please contact the camp director for information.
Volunteers without children at camp are also welcome to help out, for anywhere from a few hours to a full week. You might help with science experiments, teach knitting, lead a sailing lesson or provide logistic support to a director … it's up to you!
Volunteer training and opportunities
Training sessions:

Camp-specific volunteer training: dates to be announced.
First aid, CPR, program and outdoor training are available for all Girl Scout volunteers, including those for day camp (see training page).

Camp director: Plan and implement a day camp, including developing a budget, planning program and training and supervising volunteers and staff.
Assistant camp director: Assist the director in planning and organizing a camp.
Program director: Help plan and implement general camp activities.
Unit leader/counselor: Lead a group of campers through their week of activities.
Health supervisor: Manage health and safety through prevention and treatment.
Program volunteer: Share expertise or hobby with campers during a short workshop or presentation.
Business manager: Maintain a camp's budget and finances.
Nationally accredited
All Girl Scouts San Diego camps are accredited by the American Camp Association (ACA). This national organization requires camp managers to meet rigorous standards in every facet of operation. Girl Scouts San Diego is proud to meet these important criteria. Find out more at the ACA site for parents.
 Questions
Registration: camp@sdgirlscouts.org, (619) 610-0821
Day camp program: campdirector@sdgirlscouts.org, (619) 610-0754