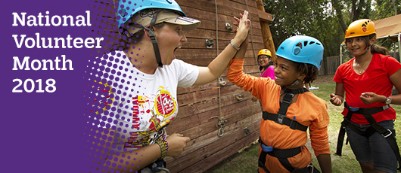 April is National Volunteer Month, and we're recognizing the powerful and inspiring contributions Girl Scout volunteers make all year long. And on April 22, the party gets even bigger as we celebrate Girl Scout Leaders Day! Discover all the ways you can say "thank you" to that special Girl Scout volunteer in your life.
Continue >

Have you heard about our new and improved Volunteer Toolkit "Resources" and "Finances" sections? Now, troop leaders and families can quickly access helpful national and local resources like badge progression charts, outdoor skill-building videos, information about Girl Scout traditions and ceremonies, and more! Log into VTK to see for yourself! (And if you're interested in finding out more about becoming a volunteer, visit the Volunteers section of our website!)
Continue >

Whether you're an experienced camper or just ready to get your feet wet, we've got something for you! Check out all the amazing day and resident camp selections available in our camp brochure, and sign up to reserve your spot today. Looking for the best summer job ever? Visit our "Employment Opportunities" page under "Our Council."
Continue >
This is our moment to come together, lift our voices, and take action on issues that matter to girls. The G.I.R.L. Agenda is a nonpartisan initiative to inspire, prepare, and mobilize girls and those who care about them to lead positive change through civic action. Are you ready to step up, stand up, and get involved?
Continue >

Imperial Valley Service Unit #681 greeted spring with a She and Me weekend at Camp Winacka. During a busy month, the girls welcomed special guests Troop 3292 from Pacific Jewel SU who kicked off their High Adventure Weekend at Sunbeam Lake with campfire programing. Also on the agenda: fishing, team-building activities, first aid kit building, and archery.
Continue >


 SOCIAL MEDIA FEED