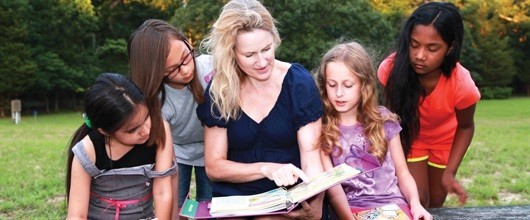 What Girl Scouts Do
At Girl Scouts, your girl will unleash her inner G.I.R.L. (Go-getter, Innovator, Risk-taker, Leader)™!
How? Through the Girl Scout Leadership Experience—a collection of engaging, challenging, and fun activities like earning badges, going on awesome trips, selling cookies, exploring science, getting outdoors, and doing community service projects.
At Girl Scouts, she'll get to lead her own adventure (it's her world!) and team up with other girls in an all-girl environment to choose the exciting, hands-on activities that interest her most. Along the way, she'll gain important skills in four areas that form the foundation of the Girl Scout Leadership Experience:
Science, technology, engineering, and math (STEM)
Outdoors
Life Skills
Entrepreneurship
Plus, she'll
Take the lead and make a difference
Achieve highest awards
Have fun!
The Result? A Lifetime of Leadership!
In fact, being a Girl Scout helps girls thrive in five key ways. As a Girl Scout, she:
• Develops a strong sense of self
• Displays positive values
• Seeks challenges and learns from setbacks
• Forms and maintains healthy relationships
• Learns to identify and solve problems in her community
Delivering Fun with Purpose
To bring the Girl Scout Leadership Experience to life, activities are led by girls themselves, feature cooperative learning, and highlight learning by doing. Girls come up with their own ideas, build teams, and experience the joy of making a positive impact. At Girl Scouts, she will:


Discover.
You'll find out who you are, what you care about, and what your talents are. 
 

Connect.
Collaborate with other people, locally and globally, to make a difference in the world. 
 

Take Action.
Do something to make the world a better place.
 
With Girl Scouts, you'll do more than you ever thought you could, dream bigger dreams than you ever imagined, and — oh, yeah — change the world. Bet you didn't think rock climbing or selling cookies would help you do all that, did you?