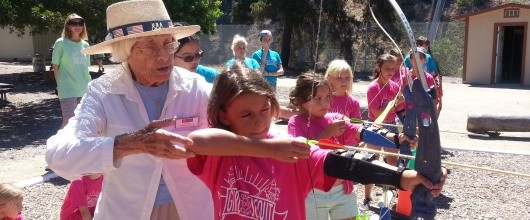 Day Camp Volunteers
You'll have a lifelong impact on girls, develop your own leadership expertise, gain new skills and tools, and connect with others. There's no cost to volunteer, and children of volunteers receive special reduced camp fees.
Roles include …
Unit Counselor: Guide a group of campers through pre-planned activities with the help of another counselor or a teen mentor.
Program Volunteer: Teach a skill, or plan and lead a special activity like crafts, gardening, sports, etc.
Health Supervisor: Medical professionals needed! Provide first aid and manage camper and staff safety.
Step-by-step: Become a day camp volunteer
 
Volunteers must be current Girl Scout members. Register yourself for Girl Scouts at sdgirlscouts.org/join.
Let us know you're interested.

Register online (link coming Wednesday, Feb. 1). Use the Session Type filter to find volunteer opportunities.
If your child is also attending camp: Register your child at the COV (child of volunteer) rate, listed in descriptions for camps that use volunteers. You must be available for the full camp session in order to use the COV rate. We'll contact you to confirm your volunteer role.

Complete a background check and other required paperwork. 
Complete volunteer training online and in person (see below).
Volunteer learning opportunities and training
Day camp volunteer training: For staff-led camps, please plan to attend a volunteer meeting on Wednesday, June 7, 6-8 p.m. at our Balboa Campus, as well as a 30-minute online training. Camp directors of volunteer-led camps will communicate specific additional training dates after you are placed in a session.
Additional training: First aid, CPR, age level and outdoor training are available for all Girl Scout volunteers, including those for day camp. Register at sdgirlscouts.org/training-overview.