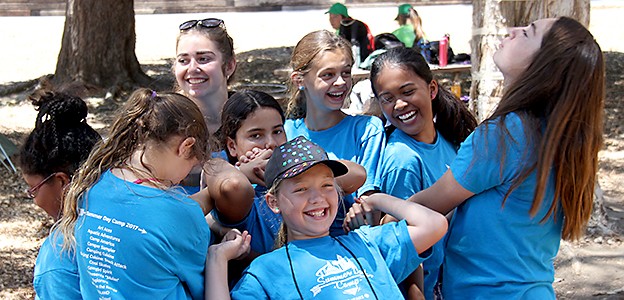 Summer Day Camps
With a camp for every interest and age level, there's never been a more exciting time to attend Girl Scout day camp! Develop new skills and ideas, face challenges and celebrate your successes with new friends. 
Girl Scouts San Diego's 2018 summer camp offerings will be available Thursday, Feb. 1, 2018. Check out the 2017 camp brochure for a glimpse of what it's all about! 

Spring and summer camps are held at Girl Scouts' Balboa Campus, Escondido Program Center and other county locations, including museums, parks, recreation centers and amusement parks.
Girls in grades K-12 attend camps with themes and activities customized for their ages and interests. Campers will work on, and may complete, Girl Scout recognitions.
Girls are decision-makers, with leadership opportunities in every day camp program.
Sessions typically run Monday through Friday, for approximately six hours each day, with occasional overnight adventures.
Girls can sign up as individual campers or attend with a buddy. Because day camp programming is age-specific, we can only accommodate buddy placement for girls within one grade level of each other. 
Extended care is available mornings and afternoons at our Balboa Campus.
Nationally accredited
All Girl Scouts San Diego camps are accredited by the American Camp Association (ACA). This national organization requires camp managers to meet rigorous standards in every facet of operation. Girl Scouts San Diego is proud to meet these important criteria. Find out more at the ACA site for parents.
 Questions
Registration: camp@sdgirlscouts.org, (619) 610-0821
Day camp program: campdirector@sdgirlscouts.org, (619) 610-0754